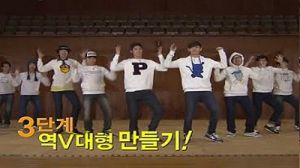 #027 - Phantom of the Running Man
dancing dancingqueen drawing findtheguest runningball snsdgee
Running Man must find the two guests among many masked people before the guests find Running Balls that eliminate 2 Running Man members at a time. A drawing relay takes place after, and then they undergo a choreography dance challenge which if they pass will result in no punishment for anyone.
119
23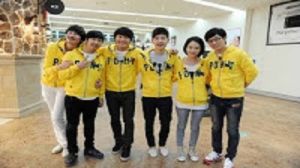 #041 - National Digital Library of Korea
drawing emotional hideandseek ripnametag scavenger
Two guests must find and catch Running Man members, who then join their team and help catch others. After, a drawing race is held and a scavenger hunt begins at HaHa's house for the top 5 items one would bring to a library. At the end there is an emotional farewall to Joong Ki as this is his last episode as a Running Man member.
114
30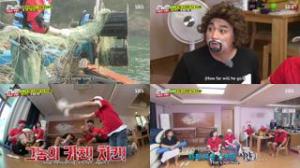 No guests
busan drawing fishing foreheadslap quiz
The race is not over yet! In order to complete their mission of 100, Jae Seok and Seok Jin have been doing various and random part-time jobs such as cycling and cleaning see-through floors. This time, they go net fishing, and Kwang Soo tags along as well. Meanwhile, Team Seoul is having a hard time finishing their vacation plans.
89
13